When Monsters Tried to Takeover The Dakar [Long Read]
When Monsters Tried to Takeover The Dakar
The Rise and Fall of the DAF TurboTwin
Rally Driver Jan de Rooy stands in front of the DAF 95 X1 TurboTwin with the DAF TurboTwin II in the background.

Introduction
Like some of you I'm sure, I stumbled upon the video of the TurboTwin passing the Peugeot 405 T16 the other day, it's the thumbnail for this post and also shown below. It put me down the rabbit hole. You can find pretty much anything online these days, which surprised me because the amount of content on the TurboTwin and driver Jan de Rooy is somewhat of a commodity, quite particularly in English.
Oh, it was a good puzzle this one! I found mistakes galore, incomplete vehicle rosters, miscategorized information and some pretty dope 100bhp/L late 80's diesel engine copypasta. A good one to sort through and make sense of these great vehicles. I wanted to include a greater human element for a more cohesive explanation.
We love weird and wonderful vehicles.
So why not learn about the rise and fall of the mighty DAF TurboTwin?
---
The Race
The Dakar Rally officially marked its first event on December 26, 1978 from Paris, France traveling south across France, The Mediterranean Sea, Algeria, turning West at Niger, Mali and ending in Dakar, Senegal. The event started off as a ragtag mostly privateer rally raid starting with 182 competitors with motorcycles, cars and large trucks.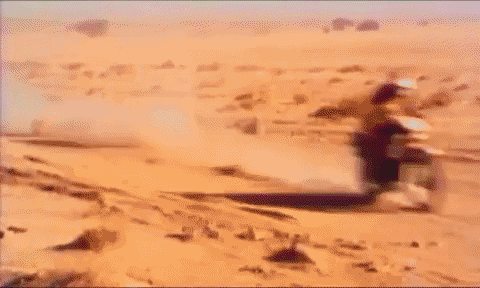 A true test of man and machine through various countries of the world. The route would constantly change through Africa in subsequent running's though it was typically started in Paris and ended in Dakar until 1995 and typically referred to as "The Paris-Dakar". It would still run through Africa with various different courses until 2007. Due to the ever-increasing volatility in Africa, it was not run in 2008. Between 2009 and 2019 it was held in South America despite keeping the Dakar namesake and since 2020 it's been held in Saudi Arabia.
Since its inception in 1979, 76 people have passed due to the rally, including 31 Competitors. Countless amounts of competitors have failed to finish and innumerable racing machines destroyed in this time period as well.
Our particular timeline will be in the Dakar Rallies held from 1982 – 1988, so from rather early in the Dakar but marks the impervious change of when competition ramped up with factory teams. With even a modicum of history knowledge, you'll recognise this marks the time period when Rally Competitions went from mild to wild.
---
The Man
Our focal point will be of one Jan de Rooy. Born February 1943 in Eindhoven Netherlands. In his early 20's Mr. de Rooy inherited a shipping company from his father which over time expanded to one of the largest transportation companies in The Netherlands.
Driver and Team Leader: Jan de Rooy

Jan had competed as a teen in Motocross, and in 1969 he took up Rallycross Racing. Between 1970 and 1982 he would win and or place 5th or above at 10 different Dutch and FIA European Rallycross Championships. At the end of 1982 he would retire Rallycross and focus his attention on racing trucks at the Paris-Dakar Rally after successfully completing the 1982 Dakar earlier that year.
---
The Machines
The truck of choice would be his countries DAF.
Herbert van Doorne originally got his start by fixing the car of the managing director of a brewery A. H. Huenges, who invested in him and allowed him to set up a workshop at the brewery. In 1932 van Doorne and his brother would name his company Van Doorne's Aanhangwagen Fabriek (Van Doorne's Trailer Factory), abbreviated to DAF.
During the second world war DAF would do conversions on truck drives. After the war in 1949, DAF would begin production of large vehicles like Trucks and Buses as well as trailers. In 1958 they would sell their first car.
Jan would start his Dakar adventures in 1982 with a DAF F241 NTT2800, mostly as a feasibility shakedown to judge if competing was a viable endeavour. A tractor of the 2800 series DAF as opposed to a cabover design. Below we will focus on progression and madness of Jan and the DAF trucks he races the Dakar in the 80's. As you will see, once he was hooked Jan de Rooy had one ultimate dream in mind: Beat the cars with a truck at the Paris-Dakar. He was given the nickname "L'ours" (Eng. "The Bear").
---
The Dakar Endeavour
1982 Dakar: DAF NTT2800 "De Neus" #381
"The Nose"
Co-Driver: Gérard STRAETMANS
3rd Within Trucks
67th Place Overall
A 1982 DAF NTT2800 modified for the Paris-Dakar Rally. With the tractor cab it is referenced as "De Neus" or "The Nose" when translated into English. It featured DAF's 1160 11.6L Inline-6 Turbocharged Intercooled Diesel Engine kept to a mostly factory specification with some 240hp.
De Rooy ended up finishing the race 3rd in the Truck Class and 67th Overall, however this placement meant that he simply wanted more. His closest competitors were all in 4x4 trucks, those being 3 Mercedes Unimog and an ACMAT.
1983 Dakar: DAF FA3300 4x4 "De Koffer" #342
"The Suitcase"
Co-Driver: Joop ROGGEBAND
Mechanic: Yvo GEUSENS
3rd Within Trucks
34th Place Overall
De Rooy would return for the second time to the Dakar with a mechanic, more sponsors, and prepared 4x4 Truck based on the Cabover DAF FA3300. It is nicknamed "De Koffer" or "The Suitcase" when translated to English due to its rectangular dimensions and box livery depicting a travel trunk.
With improvements based on the design of the truck and a more powerful engine well north of 300hp he would again place 3rd within the trucks but was also quicker overall improving to 34th. De Rooy would decide to build a prototype truck to compete next year. He realised that there would be a limit to the available power and reliability to complete the Dakar from the DAF 11.6L Turbo Intercooled Diesel Engine.
1984 Dakar: DAF F3300 4x4 "Tweekoppige Monster" #521
"Two Headed Monster"
Co-Driver: Joop ROGGEBAND
Mechanic: Yvo GEUSENS
DNF
De Rooy and his team would returned again to the Dakar for 1984, this time with heavily customized DAF F3300 in which a front half of another F3300 truck including the cab, engine, and necessary ancillaries had been installed on the back of the chassis.
Nicknamed the "Tweekoppige Monster" or "Two Headed Monster" in English, the truck featured two 400hp Engines each driving their own opposite and respective axles for a total of 800hp. Only one end featured the controls and steering. De Rooy would unfortunately not finish the 1984 Dakar due to a broken front axle.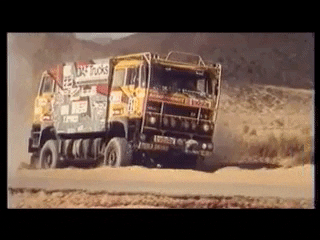 This would be the first of twin engine-ed trucks Jan would deploy to the Dakar, but definitely not the last.
1985 Dakar: DAF F3300 4x4 "The Bull" #621
"The Bull"
Co-Driver: Thierry DE SAULIEU
Mechanic: Martinus KETELAARS
2nd Within Trucks
De Rooy would show up again in a new purposely designed twin-engine 4x4 DAF F3300 Truck for the Dakar with the "Two Headed Monster" as support. With the box now a unique sloping shape for aerodynamics it was nicknamed "The Bull". Carrying on the design of last year but with also slightly more power than the Two Headed Monster. A slight bump in power with 450hp supplied to the rear axle and 420hp supplied to the front axle for a combined 870hp.
The Bull ended up finishing 1st for the trucks, but a prohibited repair due to a flat tire on the last stage caused the rally to give him a 15-hour penalty, dropping him to 2nd.
1986 Dakar: DAF FAV3600 4x4 TurboTwin #601
Co-Driver: Thierry DE SAULIEU
Mechanic: Yvo GEUSENS
DNF: Stage 15
The Dakar Rally had begun to heat up in the mid 80's as the race captured the attention of manufactures. This year De Rooy would be under the factory support of DAF and carrying on more evolutions of the two engine trucks. The DAF TurboTwin would debut in the tricolour Red, White and Blue of the Netherlands.
Based on the DAF FAV3600 with a lighter cab structure and a steel tube monocoque behind reducing the weight of the truck over 1 ton from last year. Again, engine power supplied by the midship mounted twin turbocharged diesel engines increased, this time around 475hp a piece for a combined output of approximately 950hp.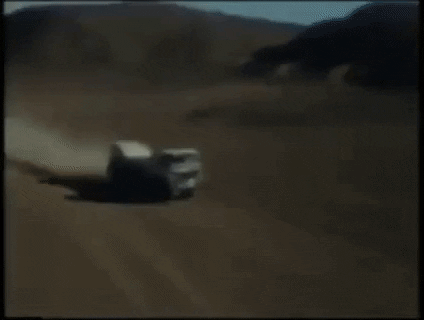 The TurboTwin was properly quick, staying in the Top 10 with the Cars throughout the race. With only 3 stages to go De Rooy again suffered a broken front axle and had to withdraw from the race.
1987 Dakar: DAF FAV3600 4x4 TurboTwin II #600
Co-Driver: Theo van de Rijt
Mechanic: Yvo GEUSENS
1st Place in Class
11th Overall
Obviously disappointed in last year's failure to finish DAF and De Rooy made serious modification to the TurboTwin design to improve it. This included extensive use of aluminium which were used for the tubular monocoque and wheels further reduction the weight. Engine power was 495hp for a combined 990hp. There were also modifications to streamline the body to further improve the aerodynamics of the truck.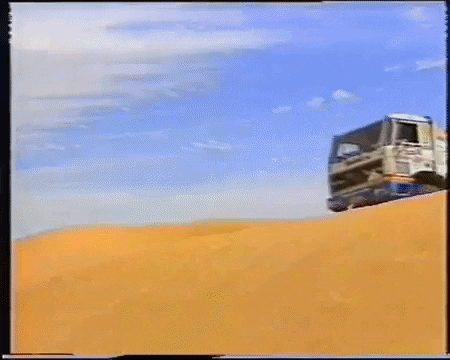 De Rooy and the TurboTwin II would win the Truck Class by 11 hours over the next competitor and finish the 1987 Dakar 11th Overall. First in class was good, however Jan would set his sights with the help of DAF to attempt to win overall.
1988 Dakar: DAF 95 TurboTwin X1 and X2
X1 #600 [Red Back Top]
Co-Driver: Hugo Duisters
Mechanic: Yvo GEUSENS
X2 #601 [Blue Back Top]
Driver: Theo van de Rijt
Co-Driver: Kees van Loewezijn
Mechanic: Chris Ross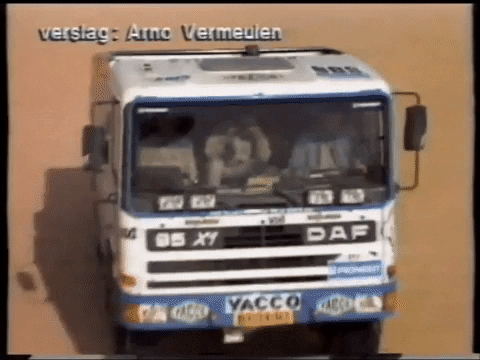 DAF would show up to the 1988 Dakar loaded for bear. More revisions for the TurboTwin included the switch the DAF 95 Cab with revised aerodynamics. Further, they were running two TurboTwin Trucks.
#600 95 TurboTwin X1 was driven by De Rooy and it's engines had again been boosted, this time with a 3rd Variable Geometry Turbocharger to compound up to 600hp a piece. This brought his truck to 1200hp combined and would be enough power for the big 10-ton truck to reach 0-100km/h [0-62mph] in 8.5 seconds and hit a top speed of 220km/h [136mph]. It would be able to carry some serious speed over the adverse terrain of the Dakar Rally. To complement the increase in power the fuel capacity of the truck was increased to 940L [248 US Gal].
#601 95 TurboTwin X2 was a smaller evolution of last year's TurboTwin II and driven by Theo van de Rijt who was Co-Driver to De Rooy last year in the TurboTwin II. The X2 would feature the same engine set up as last year with 495hp for a combined output of 990hp.
De Rooy's X1 was very quick, keeping pace with the cars on many stages. Here is the infamous helicopter video of him passing Ari Vatanen driving the Peugeot 405 T16 at some 200km/h. The lore being that Vatanen banged his fists on the steering wheel when the pass happened.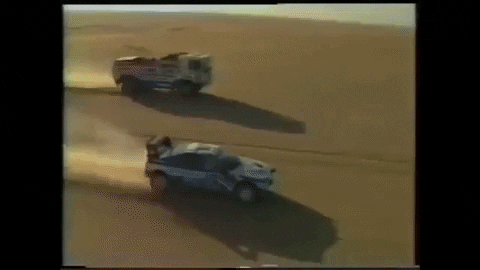 Tragedy for DAF
January 9, 1988. During Stage 8 Djabo-Adadez of the Dakar Rally, Theo van de Rijt would experience an accident with the X2 Truck at 180km/h just 20km from the start of the stage. The accident was caused by a subsequent washboard of dunes that upset the balance of the truck at speed. This instability caused a loss of control and culminated in rolling over 6 times. Driver Theo van de Rijt and Mechanic Chris Ross are battered about inside the cab of the truck and sustain severe injuries but are transported to local hospital and then medivac-ed back to the Netherlands and make recoveries. Sadly, the navigator Kees van Loewezijn is ejected from the truck 80 meters and passes away instantly.
The fatal accident of the DAF 95 X2 TurboTwin

Immediately following this tragedy, DAF and Jan de Rooy who was 5th in the standings pull the X1 out of the Rally, with a pending accident investigation and review. DAF then shortly deciding to suspend all racing efforts and selling the factory equipment to de Rooy. However, de Rooy does not participate in a Dakar event for over a decade, only returning in 2002.
Jan de Rooy at the wheel of the DAF 95 X2 TurboTwin before the accident

DAF and the external reviews concluded that the vehicle was compliant and that the accident was not the fault of driver van de Rijt but of a tragic racing accident. Despite the findings clearing of any fault and his own experience, Theo van de Rijt expresses deep remorse for the accident and the loss of van Loewezijn. In a documentary, Jan de Rooy has expressed that he originally did not want van de Rijt to drive the second TurboTwin at the 1988 Dakar Rally.
The Dakar would then ban the T4 Class of Modified Trucks from competing in 1989 and subsequent years until their return in 1998.
---
After the TurboTwin
As mentioned before Jan de Rooy would return to the Dakar in 2002 with his son Gerard and mechanic Yvo Geusens driving a DAF FAV CF85 4×4, in 2004 he would switch to a DAF FAV CF75 4×4, for 2007 a GINAF X 2222. In 2009 he would switch to the Africa Eco Race.
Jan and son Gerard

A few of the Dakar Machines competing machines are on display. The lead photo shows the 95 X1 and TurboTwin II. "The Bull" is also on display. Earlier this year the Two Headed Monster received a rebuild at the De Rooy workshop. As of October 2021, it is now in drivable condition.
Recently announced is that Team De Rooy will field 4 Trucks at the 2022 Dakar Rally.
The Two Headed Monster is overhauled https://www.dakar-derooy.com/news/

---
Information
https://second.wiki/wiki/jan_de_rooy Jan de Rooy Biography
https://www.dakar-derooy.com/ Team De Rooy website
http://motorsportmemorial.org/focus.php?db=ct&n=5001 Kees van Loevezijn online memorial
https://matraxlubricants.com/3260-2/ Basis Piece
https://www.dakardantan.com/ Dakar 1982-1985 Results
https://www.automobilsport.com/race-categories--24,15802,8th-1986-PARIS---ALGIERS---DAKAR-1986-History,news.htm Dakar 1986-1988 Results
There's a bunch of scattered information I grabbed from random places on google searches, pictures, and YouTube for the .gif
---
Conclusion
I hope you enjoyed reading and looking at this unique piece of history of The Dakar and Mr. de Rooy's life. It's more complete than what I've found in other places and I'm hoping that it's accuracy is acceptable.
posted in Oppositelock